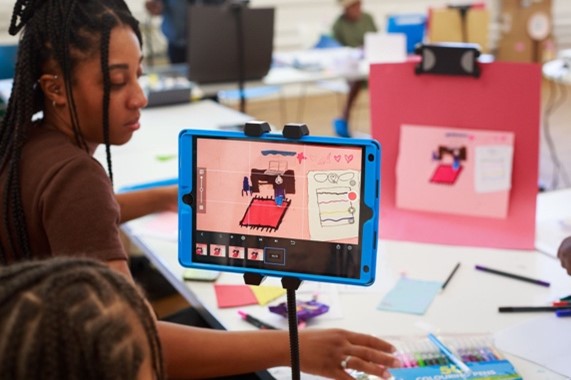 Saleema's Blog
My name is Saleema, and I participated in the animation workshop with Black Thrive during the summer holidays. In the workshop we all took part in loads of different creative activities like painting what we think our emotions would look like and making flip book animations and I think we all really enjoyed it as it was very fun. I found it quite difficult to think of what my emotions would be like; what colours they would be, so it was very fun and interesting to get thinking about that. I also found it very enjoyable to work with other people and make friends and to connect with other people and understand their ideas.
During the experience I learnt that everyone has different views and ideas about similar experiences we all had or emotions [that]we have. We also learnt about our emotions and wellbeing. I understand emotional well-being to be letting out your emotions and adapting to difficult situations or just walking away from them instead of keeping your emotions hidden. It was also very fun to experiment with different ideas others had come up with one idea together.
We also used different tools and mediums like cut outs and clay and loads of paint which was very fun. I don't really have any negative feedback about the workshop; I just wish it could be a bit later rather than at 10:00 am, although it was nice to get up early and be excited about the workshop even though it was early, and it was the summer holidays. However, Black Thrive is an amazing organisation, I felt very supported by them, whenever I was confused or stuck on a task. I think I learnt a lot about the evolution of animation and how it improved. I feel like the workshop helped to bring black children in Lambeth together and then we could all do something that involves everyone and that ended up with us making loads of nice different animations about our 2020 lockdown experiences. They were all quite similar, however we all came out with different and fun ideas related to our sad experiences during lockdown. So, I found it fun to make something out of the negative experiences we all had, and we could all laugh about it after.