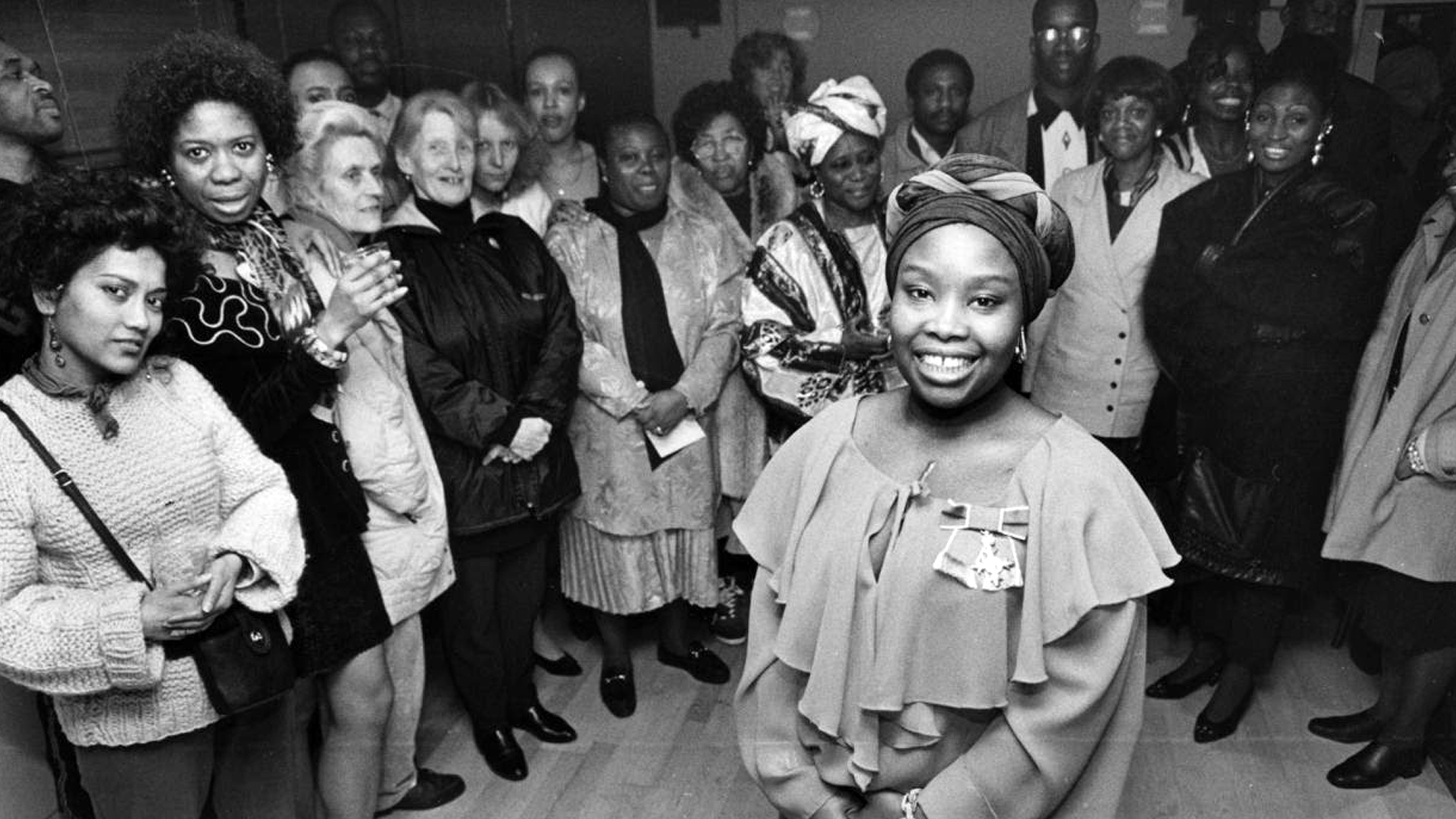 Lambeth Hidden Stories: Dora Boatemah
Dora Boatemah: Her fight to secure community-control of the redevelopment of the Angell Town Estate
Dora Boatemah was born on the 22nd of July 1957 in Kusami, where her mother worked for the Ghanaian leader, Kwame Nkrumah. In 1959, Dora was sent to boarding school in London; her mother only later joining in 1967 after Nkrumah was deposed. Dora's mother returned to Ghana in 1973, but Dora remained in London.
During her adolescence, Dora experienced homelessness and hardship, but in 1977, Dora, her partner, Earl, and their son took residence in Angell Town Estate in Brixton. At the time, Angell Town Estate was deemed unsafe and in disrepair, with high rates of crime and abuse. Despite construction of the estate only beginning in 1974, it was in decline before its completion in 1980. The local newspaper wrote, "the estate quickly became a paradise for muggers, vandals, drug addicts and burglars, its council blocks standing as miserable monuments to the town planning failures of the 1970s."
In 1987, the Conservative government's then Environment Secretary, Nicholas Ridley, decided that Angell Town and similar estates should be transferred from council ownership to housing action trusts (HATs) which would redevelop them. HATs denied residents of Angell Town the right to vote on proposals about the transfers of their own homes. Residents of the community wanted the estate redeveloped but wanted their voice to be heard. Then began Dora's 10 year battle to amplify the voices of Angell Town Estate and fight for tenants voting rights. She established the Angell Town Community Project which campaigned for community-controlled redevelopment.
Between 1987 and 2000, Dora persisted through many obstacles and despite Lambeth cutting off grant funding in 1997, she helped to secure an initial £8m to transform the estate. The funding permitted 200 unused garages to flourish into shops and social facilities for the Angell Town community, and financed a pilot project for the community-controlled redevelopment programme. The success of Dora's campaigns led Lambeth Council to secure £60m of government funding to facilitate a complete regeneration of the estate.
Dora sadly passed away on the 31st of January at 43 years old after suffering a heart attack. She is buried alongside her mother in Ghana. Dora Boatemah, dubbed "Difficult Dora" for her unwavering refusal to compromise on community control, was awarded an MBE in 1993 following her work for better housing, and then an honorary doctorate from Oxford Brookes University in 1996. The Dora Boatemah Memorial Garden which opened in 2006 in Angell Town Estate celebrates her legacy of community rights.
Sources:
https://www.newspapers.com/clip/58935522/obituary-dora-boatemah/